WELCOME TO WESTERN VISIONS FLY FISHING LANYARDS
Hand Crafted Fly Fishing Lanyards Incorporating a Net Holder!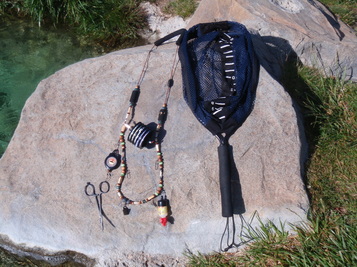 Although there are many fine fly fishing lanyards on the market today, Western Visions Fly Fishing Lanyards is offering something different from the rest...........
We are proud to be hand crafting lanyards of the highest quality, each original in design with a focus on natural elements. We strive to make each lanyard original through variances of semi-precious stone, bone, horn, coral, seed, ceramic, glass and wooden beads.
Each lanyard features a tippet holder as well as a net holder swivel which are easily removed should the owner choose to do so. Additionally, the length of the lanyard is adjustable and each is supplied with a retractor.
As each lanyard is an original, those that are currently available for purchase are displayed on the
Lanyards/Accessories
page. Once they are sold they are gone and new creations will be displayed. So if you find a lanyard that you like, and it expresses who you are, make sure to buy it before it is gone for good!
Being that we are all individuals and have differing views of what the perfect fly fishing lanyard should look like, we also create custom lanyards based on your personal desires. We encourage you to use the
Contact Us
page to share your ideas of what you would like to have incorporated into your own custom designed lanyard and we will definitely try to make that a reality for you.
At Western Visions Fly Fishing Lanyards we are proud that all of our lanyards are hand crafted, by my wife and me, right here in the USA. We fully stand behind each lanyard with a repair, replacement or refund policy, fully described on our
Warranty/Policies
page.
We strive to offer the best service available in making your lanyard purchase. Over the years we have changed from a single length of lanyard to now offering three lengths. Our original length lanyard, the "Headwaters" model is about 14" long from the top of the fly patch cylinder to the bottom and sells for $ 55.00 USD. Our second lanyard is called the "River" model and it is about 12"
long from the top of the fly patch cylinder
to the bottom and sells for $ 50.00 USD. Our newest lanyard is called the "Creek" model
and it is about 8"
long from the top of the fly patch cylinder
to the bottom and sells for $ 45.00 USD. We also work with customers to create custom lanyards to their specific desires and charge an additional $ 15.00 USD to the base price of the requested model.


All sales are made through PayPal allowing you the ability to pay through a personal PayPal account or by using a credit card. All orders are shipped via USPS Priority Mail Flat Rate and are calculated at the time of purchase, based on your location (USA, Canada & Mexico or International).
If you are looking for a unique original design, or want to incorporate your own personal ideas for a fully custom fly fishing lanyard, we hope that your search will end here at Western Visions Fly Fishing Lanyards.
---